If you are a Sun, Sea & Sand kind of a person, then you have come to the right place. My Recipe-Blog "Xantilicious" brings you some of the best chow from Goa a beautiful idyllic beach paradise. I am Xanti Fernandes e Pinto, Computer Engineer, ex-Asst.Professor / Lecturer in Padre Conceicao College of Engineering  in Goa for 8 years , currently a full-time working mom in The US, a wife and an aspiring home cook. I had always been thinking about starting my own food blog and putting up some quick savory recipes for my family, friends and fellow foodies. Xantilicious.com is my attempt to bring to you the flavors of Goa and some other delights from my humble kitchen.

Cooking was never my forte. When hunger strikes, my skills as a cook were limited to survival. I would not dare take that step into the kitchen in fear that I might indulge in the ways of the man and bound myself with the task of cooking. My family was already feeling pity for my suitor and I was often teased about the fact that I could not cook. But as any other good cooks, I had my calling. Armed with hope and urge to learn I began my journey into the world of comfort food, spicy appetizers, gourmet meals and my favorite, baking.
Cooking is an art. And as many a men will tell you, it is not so hard to learn. Specially when you have the internet that gives you vast knowledge from cookbooks, recipe blogs and videos. They all helped me to understand and exercise this intricate art. All you need is a bit of patience, time and support. Being a mother and having a full-time job, time is sparse. But I never miss an opportunity to experiment as well as perfect my recipes.My loving husband Alton and his appetite for variety, is my main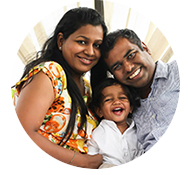 inspiration for trying new recipes and my 4 year old son, Alain, keeps me on my toes for quick snacks. But at the end of the day, a happy husband and smiling lil one, is all worth it.
So, to all newbies and pro's out there, please give my recipes a try and let me know if I can improve on any. Your suggestions and criticism are always welcome. To end this on a high note, let me quote Alan D. Wolfelt
"Food is symbolic of love when words are inadequate."